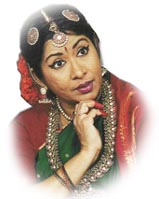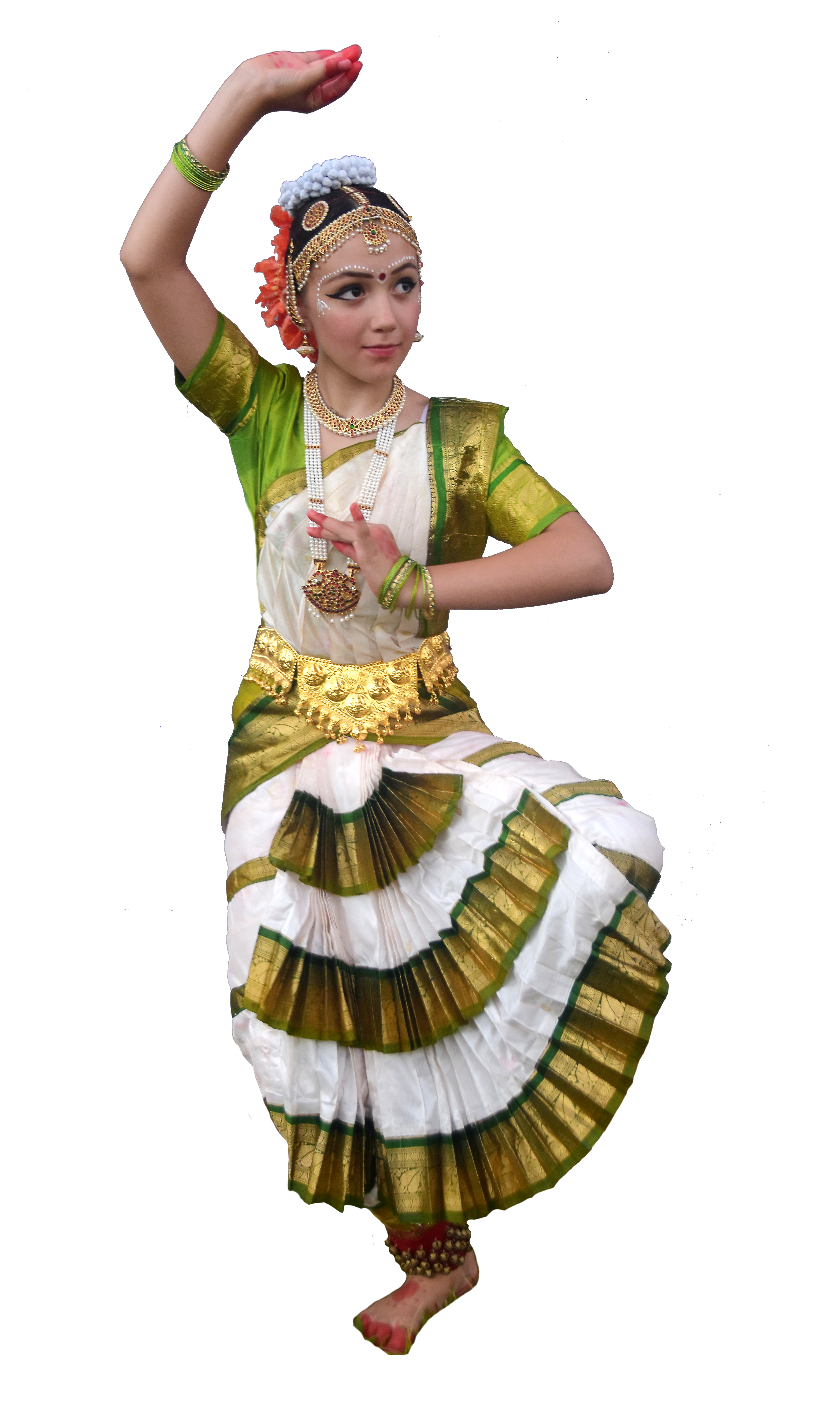 The singing of the Lord's holy names and remembrance of his glorious activities is accomplished through dance in such a pleasurable way for both performers and audience that Srila Prabhupada's bhakti movement is welcome as an ambassador of Vedic culture. The audience is left feeling awe-inspired as they contemplate a sweet glimpse into the Lord's multi-faceted pastimes.
Bharatanatyam is one of the oldest and most celebrated dance forms of ancient India. It is dedicated to the praise of God through the depiction of stories, philosophy, and devotional feeling. Originally, about 2,000 years ago, it was performed exclusively by Devadasis, women who danced as an offering of bhakti or devotion to God within the confines of temples. However, in recent times, Bharatanatyam has come to the world stage and become one of the most popular classical Indian art forms.
"Bharata" can be broken down further to disclose the elements of classical dance. The first is "Bha" which stands for "Bhava" or emotion as it is expressed. The second is "Ra" which stands for "Raga" or melody. And the third and last part is Ta" which stands for "Tala" or "rhythm."
There are three aspects of classical dance:
Nritta – pure dance movements and techniques comprising postures, footwork, rhythm and timing
Natya – elaborate facial expressions or "Abhinaya," combined with hand gestures or "Hasta Mudras" that convey various moods or "Bhavas" (drama)
Nritya – a mix of Nritta and Natya combining rhythm with drama.
Deepen the spiritual meditation of both dancers and audience
Discipline the body and mind in spiritual service
Enhance private and group prayer time
Enlighten dancers and audience in the refined taste of classical religious dance of India
Prepare people to minister to others through dance
Present the philosophy and stories of Lord Krishna and His associates using dance, mime and movement
Offer a means for artistically inclined people to dedicate their talents in the Lord's service
Get exercise and have fun at the same time
Regularly performing as part of spiritual and cultural events in Hillsborough, North Carolina, the students of Padma Dance Academy inspire their audiences in spiritual life and meditation on the divine pastimes of the Supreme Lord, Sri Krishna.
Many students have increased their spiritual commitment and joy through the dance program, and our diverse audiences have deepened their appreciation of India's rich spiritual heritage.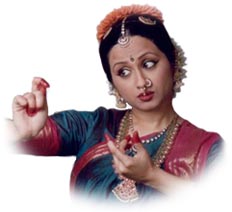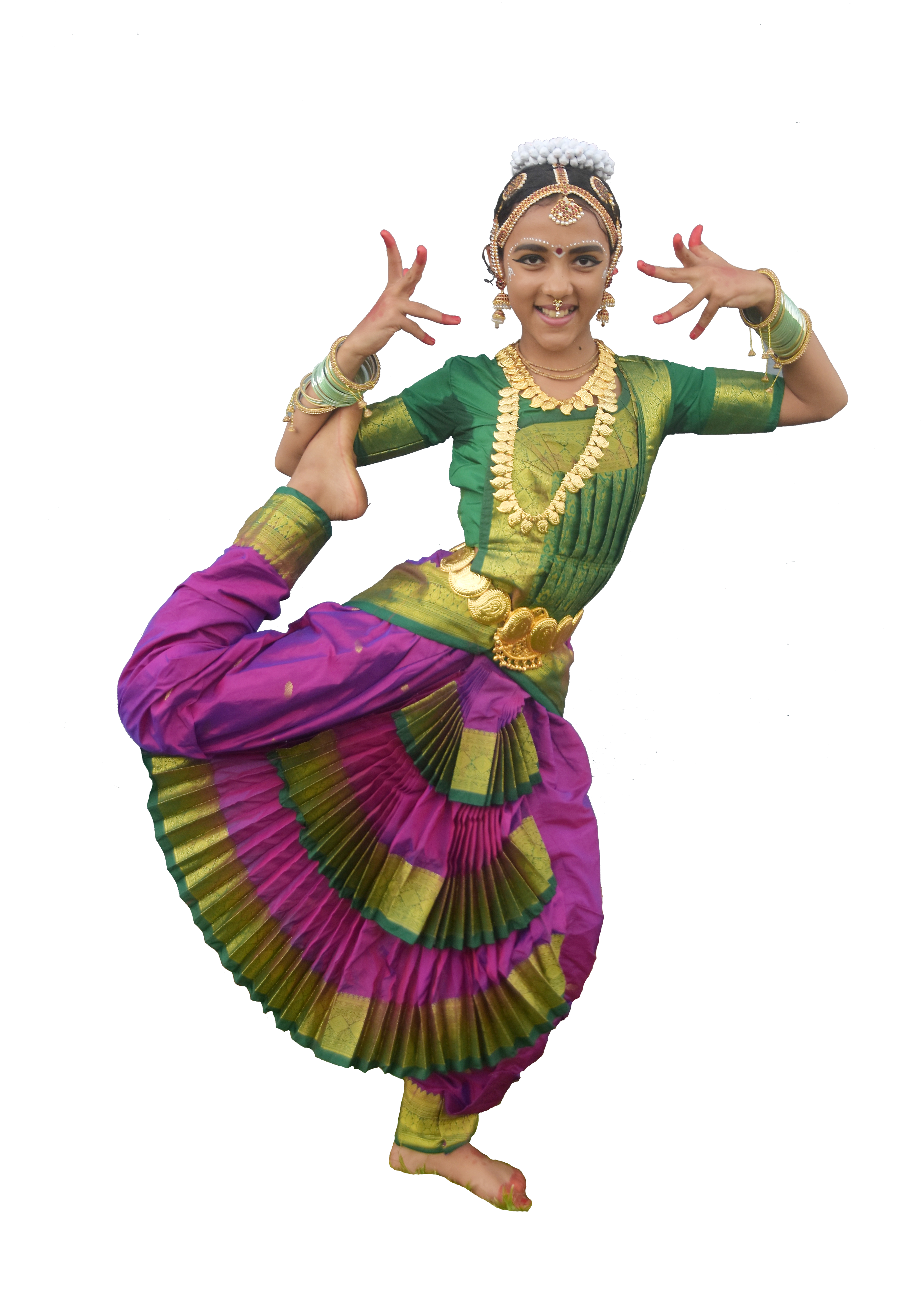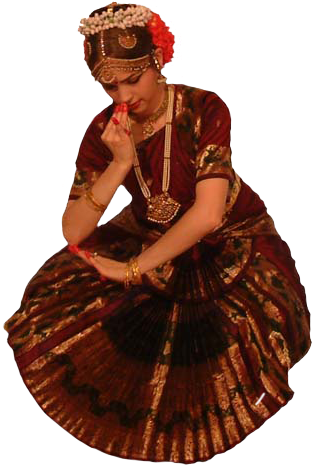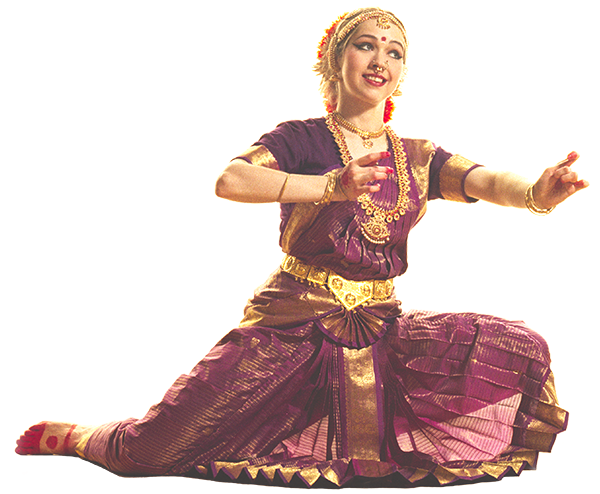 Champakalata (Yamuna) is the director of the Padma, Inc. Cultural Mission, which includes Padma Dance Academy.
Born Yamuna devi dasi in 1978 to Urmila devi dasi and Pratyatosa dasa, she lived with a pre-school or gurukula (bhakti school) literally in her home from the time she was two years old. When she was eleven she began to regularly help with secretarial work and teaching of the younger students. When she graduated from secondary school at the age of sixteen in 1995, she started teaching at Padma Inc. full-time. Champakalata has taken many professional teacher training seminars, workshops and college courses to increase her academic knowledge and teaching skills. She married Mayapurcandra das in 1997 and received the name Champakalata when she took initiation from Bir Krishna Swami in 1998.
She completed her Bharatanatyam Arangetram (dance debut) at Duke University in August, 2002, under the direction and guidance of her dance gurus, Sudha Chandra Sekhar and Geetha Murali of Hindu Temple Rhythms. Her dance gurus are coming in line from the famous dance maestros, Govindaraj Pillai, Kuppiah Pillai, Mahalingam Pillai, and K. Kalyanasundaram of the dance school, Sri Rajarajeswari Bharata Natya Kala Mandir, in Mumbai, India.
Champakalata is often invited to temples, schools, universities, and cultural and social events both to perform traditional spiritual dance and to teach the meaning, role, and effect of aesthetic discipline in developing love for the Supreme Lord. She and her students perform at various spiritual and cultural events throughout the year, and meet at least twice a week for training, research, development, and practice.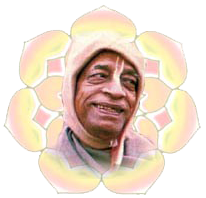 The Dance School's History
A.C. Bhaktivedanta Swami Prabhupada, the founder-acarya of the International Society for Krishna Consciousness, brought traditional Gaudiya Vaisnava culture, understanding, and practice to the world's nations. It is because of Prabhupada's contribution that Campakalata grew to know the Supreme Lord, Sri Krishna and want to glorify Him through Bharata Natyam dance.
Born in the Hare Krishna Movement, Champakalata would imitate Bharatanatyam dancing and long for the day when she would dance in the temple like Srimati Sudha Chandra Shekhar and her Hindu Temple Rhythms troupe in Detroit, Michigan. In 1986, at age seven, she began weekly classes with Sudha Aunty. Later, after moving from Detroit to Hillsborough, North Carolina, she continued her studies under the guidance of Geetha Murali, one of Sudha Chandra Sekhar's senior students.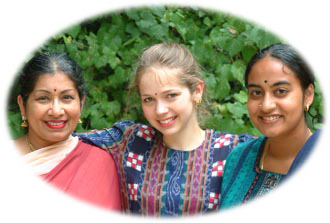 Sudha Aunty, Champaka, and Geetha
Though Geetha moved from North Carolina some four years later, Champakalata was able to continue her training with Sudha Chandra Sekhar through seasonal workshops in North Carolina and Michigan. Champaka also had the unique opportunity to train with esteemed guru, K. Kalyanasundaram Pillai, in the summers of 2003 and 2015.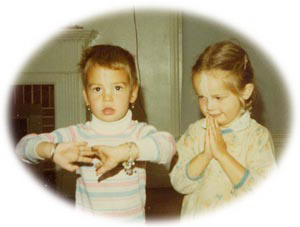 Pancha (Gaurangi Priya) and Yamuna (Champaka) dancing at three-years-old
Padma Dance Academy is part of the cultural mission of Padma, Inc. which is affiliated with the International Society for Krishna Consciousness, ISKCON.
She completed her Bharatanatyam Arangetram, or dance debut at Duke University, Durham in 2002, and with the blessings of her dance guru, opened her own dance school, Padma Dance Academy, in Hillsborough, North Carolina training many students and coordinating and choreographing dozens of performances each year. She and her students were invited to temples, schools, universities, and cultural and social events both to perform Bharatanatyam and to teach the meaning, role, and effect of such aesthetic discipline in developing love for the Supreme Lord.
In the summer of 2015, at the invitation of her guru, Srimati Sudha Chandra Sekhar, Champakalata joined forty students of Hindu Temple Rhythms in the production of a dance drama called Radhe Radhe, dancing to songs composed by Sri Murlidhara Swamiji and choreographed by Sudha Chandra Sekhar. During her stay in her guru's Gurukulam in Oak Park, Michigan, she deepened her study and understanding of Bharatanatyam under the tutelage of Srimati Sudha Chandra Sekhar and Guru Kalyanasundaram.
She and her family presently live in Hillsborough, North Carolina where she continues to teach and perform this ancient art form.